How to Become a Security Consultant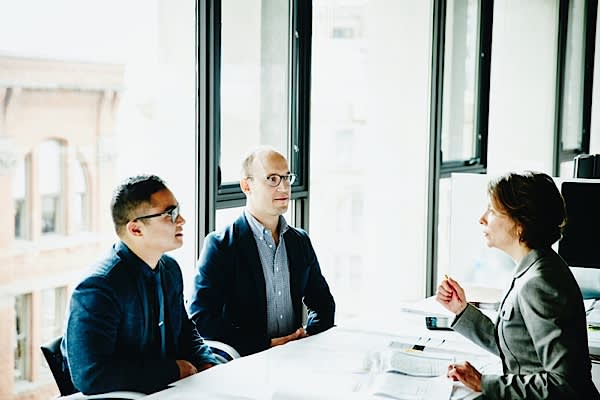 Are you ready to find a school that's aligned with your interests?
Find the right education path to take advantage of this fast-growing industry and join the front-lines on technology and security.
Security consultants assess all security measures for their organization or for client organizations. They analyze security systems, study potential breaches, and supervise the implementation of solutions. They may oversee security operations for one company, or consult with client companies independently or through a bigger firm, helping organizations to understand where their cybersecurity measures may need patching.
According to PayScale, security consultants earn an average annual salary of $85,430. In a world that increasingly relies on cloud computing, organizations need cybersecurity experts more than ever to help protect their interests.
On this page, readers can learn more about a security consultant's responsibilities and what makes the role crucial to company success, plus how to become a security consultant, crucial skills for security consultants, and occupational data including information on security consultant salary opportunities.
What Does a Security Consultant Do?
Whether working for a single company or consulting for multiple clients, security consultants analyze potential cybersecurity threats by running tests on the system and searching for potential breaches. A security consultant must understand how hackers operate to protect against them. Security consultants ensure that their organization exceeds the minimum requirements for regulatory compliance.
Security consultants propose improvements to infrastructure and may present them to upper management. Once the company selects a strategy, a security consultant oversees implementation of new security measures and helps maintain them over time. In a frequently changing field, security consultants must stay up to date on the newest technology and risk factors. They may also train staff across the organization to understand and protect themselves against information security risks.
Companies hire security consultants to protect their digital assets, which may include consumer data, custom software coding, and sensitive information. Security breaches can erode consumer confidence and threaten the organization's future, making security a top priority for many companies.
The job typically requires one to three years of experience. Entry-level jobs may include junior positions on a team of IT specialists.
Top Online Programs
Explore programs of your interests with the high-quality standards and flexibility you need to take your career to the next level.
Steps to Become a Security Consultant
Typically, security consultants hold degrees in computer science, information security, or cybersecurity, though any related degree can lead to success in the field. Through courses in database design, IT foundations and applications, web development, and cyber law, plus fundamentals in IT business, students prepare to fight security risks and pivot as quickly as the ever-changing digital world around them.
Beyond excellent computer proficiency, a degree can help students develop the necessary analytical and problem-solving skills for their day-to-day work as security consultants. Because the position requires examining an organization's structures and coming up with solutions to potential problems, these skills are essential to ongoing success.
Considered experts in the field, security consultants typically need 1-3 years of work experience before they can expect to take on leadership roles. Early on, aspiring security consultants may work as junior members of an IT team, taking on more administrative work and learning as they go. By prioritizing continuing education and networking through colleagues and professional organizations, aspiring security consultants can build a path to the career they seek.
Professional certifications are also a crucial component to a security consultant's resume. A common choice among a wealth of options, a certified information systems security professional (CISSP) validates a security expert's ability to develop and implement a security program. Other popular certifications include certified information systems auditor (CISA), for professionals focused on cybersecurity analytics; certified information security manager (CISM) for supervisory positions; and certified ethical hacker (CEH) for penetration testers.
By obtaining a professional certification, or several, aspiring security consultants can demonstrate further expertise in the cybersecurity niche of their choice. Certifications validate deep knowledge and a commitment to the field that employers prize.
Top Required Skills for a Security Consultant
Students planning to become security consultants should learn hard skills including computer programming and network and security configuration. Taking courses like cloud computing infrastructure and services, computer programming in Java, network and security foundations, and network and security applications, will prepare you to understand the complicated technical aspects of security consulting.
Though it's natural to gravitate towards certain soft skills over others, students can certainly strengthen areas like communication, problem solving, and leadership skills by obtaining a degree. Courses in critical thinking and logic, communication, and managing IT can prepare you for leadership in the field.
Security consultants need to engage in critical thinking to analyze security issues and respond quickly to breaches—or even better, find problems before they arise. Communication is also essential, as they must communicate with top executives about the company's security operations, outlining issues so that managers can both understand and make informed decisions. Security consultants may need to communicate via written reports or through oral presentations, and they may also be called upon to tutor non-IT staff in best practices.
Security consultants who develop leadership skills and strong management techniques can advance to oversee entire departments and projects. Many companies employ teams of IT personnel, which good managers can lead to implement and maintain their cybersecurity protocols.
Security Consultant Salary
Payscale reports that security consultants earn an average annual salary of $85,430. Salary potential can increase depending on many factors, including education, years of experience, location, and the particular industry.
According to the Bureau of Labor Statistics (BLS), information security analysts, a type of security consultant, were paid more in New York, New Jersey, and Washington, D.C. than anywhere else in the country. As of May 2018, security consultants in New York had an annual mean wage of $122,000, while those in New Jersey and Washington, D.C. earned $121,600 and $118,080, respectively.
With cybersecurity in demand across industries, security consultants can find employment in a variety of fields. BLS reports that the top paying industries for information security analysts included pharmaceutical and medicine manufacturing, wholesale electronic markets and agents and brokers, and legal services, with the highest annual mean wage at $131,150.
Furthermore, BLS predicts a bright outlook for the information security field, projecting a growth of 28% for information security analysts between 2018 and 2028. With the national average growth for all occupations predicted at 5%, security consultants can take advantage of booming opportunities over the next decade.
Looking for More Cyber Degree Programs?
NOTE: Take a look at our Guide to Cyber Security Certifications for more information and advice.
SCHOOL RANKINGS
USEFUL RESOURCES
Accredited Online College Programs
Some of the fastest-growing jobs are in information security. Jump-start your career by learning about the best online cybersecurity degrees.
An online master's in cybersecurity can boost your career options and earning potential. Check out our program rankings to kick off your search.
The best cybersecurity schools prepare students for exciting and lucrative IT careers. Explore our ranking of the best cybersecurity bachelor's degree programs.
Are you ready to find a school that's aligned with your interests?
Find the right education path to take advantage of this fast-growing industry and join the front-lines on technology and security.