Cybersecurity Bootcamps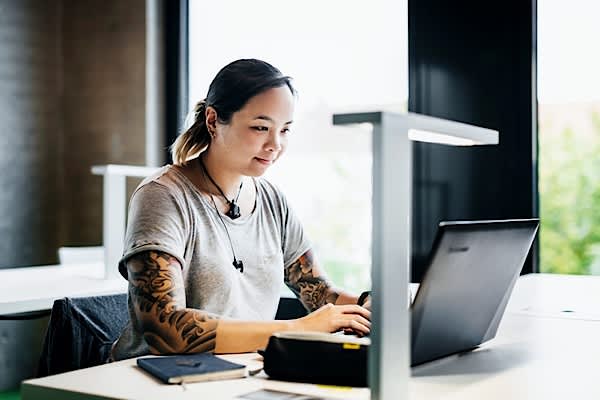 Are you ready to find a school that's aligned with your interests?
Find the right education path to take advantage of this fast-growing industry and join the front-lines on technology and security.
Maybe you're an IT administrator looking to make the jump to security. Or an analyst who wants practical training in pen testing & ethical hacking. Or a self-taught techie who's ready to break into the industry. Whatever you are (or aspire to be), there's a cybersecurity bootcamp that's got your name on it!
But is it the right investment? Can you trust the provider? What quality markers should you look for? How much is it going to cost? To help you make a smart & informed decision, we've assembled this fluff-free guide to cybersecurity bootcamps. Here you'll find info on ETPs, admissions requirements, curricula, certification prep, funding options, and much, much more.
Ready to take the plunge? Our cybersecurity bootcamp directory has a rundown of all your options.
What are Cybersecurity Bootcamps?
Definition Of A Cybersecurity Bootcamp
Cybersecurity bootcamps are concentrated training programs that are primarily designed to prepare you for entry-level cybersecurity jobs. Intermediate and advanced-level bootcamps may help you qualify for mid- to higher level positions (e.g. penetration tester).
Bootcamps are shorter in length than undergraduate and graduate certificates (i.e. less than a year) and they may be offered by any number of providers, including private companies and skills academies. There are bootcamps geared toward self-taught tech enthusiasts and bootcamps aimed at more experienced IT professionals and aspiring managers.
Top Online Programs
Explore programs of your interests with the high-quality standards and flexibility you need to take your career to the next level.
Why Choose A Cybersecurity Bootcamp?
In a word? Efficiency. Cybersecurity bootcamps are designed to get you in & out of training quickly. You won't earn an academic qualification (i.e. a graduate certificate or MS), but you will receive plenty of other benefits:
Flexible evening & weekend schedule for part-time students; concentrated schedule for full-time students
Curricula created by security experts working in the field
Challenging security coursework that echoes current trends & issues
Exposure to the latest security tools & technologies
Real-world training, certification prep, and career assistance
A lower tuition price than a degree
Cybersecurity Bootcamp Providers
Academic Providers
Non-profit colleges and universities, both public and private, offer cybersecurity bootcamps. However, we want to point out that every university in our directory has decided to partner with either Trilogy Education Services or HackerU. These two companies create and structure the programs; the university serves as a host.
That means when you look at bootcamp descriptions on university websites, you'll see the same coursework, the same structure, and the same career outcomes repeated over and over again. Our directory has more info on this phenomenon.
Independent Providers
Many providers in our directory fall into this category, which includes skills academies, training companies, and the like.
Some were deliberately established as IT academies (e.g. SecureSet Academy, Sun Training Center, etc.)
Some were started by charismatic founders (e.g. Woz U, NextGenT, etc.).
Some are an outgrowth of a tech company (e.g. Open Cloud Academy, which is run by Rackspace).
Because providers like to play to their strengths, you'll find plenty of variety in these cybersecurity bootcamps. Some will be sure to include particular subjects (e.g. cloud computing, SIEM admin, etc.) in their curricula; others may focus on specific skill sets. We recommend you take a moment or two to check out the "About" page on the company's website to see who's behind the curtain.
What Are Eligible Training Providers (ETPs)?
On their websites, independent companies and academies may note that they are "Eligible Training Providers" (ETPs). This means that they have been deemed eligible by their state to provide training services under the Workforce Innovation Opportunity Act (WIOA). For example:
TechLaunch.io is part of the Florida Vocational Institute (FVI), which is an ETP in Florida.
Open Cloud Academy and Divergence Academy are ETPs in Texas.
SecureSet Academy is an ETP in Colorado.
DevLeague is an ETP in Hawaii.
Going to an ETP often opens doors to state grants & scholarships for adult learners and dislocated workers (e.g. SecureSet Academy students have successfully applied for grants from the Colorado Department of Labor and Employment). Your local job center will be able to help you determine if you're eligible for WIOA training services and how you can take advantage of funding options. You can also search for WIOA Eligible Training Providers by State.
How Cybersecurity Bootcamps Work
Choosing Your Skill Level
How We Made The 3 Designations
We've grouped cybersecurity bootcamps into 3 broad categories: beginner, intermediate & advanced. But we'll warn you that there is a fair amount of crossover! You may find that a beginner bootcamp has useful intermediate-level coursework and an intermediate bootcamp just doesn't have enough advanced subjects to suit your needs. Check the curriculum and application sections carefully before you make your decision.
Beginner
Beginner bootcamps are generally aimed at folks who have little or no IT work experience or formal education (e.g. self-taught tech enthusiasts).
A high school diploma may be the only education requirement.
Fundamental courses in networking and operating systems are common in beginner bootcamps.
For instance, TechLaunch's Cyber Security and Network Technician Program claims that it will help you build your networking skills from the ground up, preparing you for Network+ and Security+ certifications.
Intermediate
Intermediate bootcamps often expect you to start the program with some grasp of IT fundamentals. Examples of prerequisites could include:
Network+ certification
Familiarity with networking, systems & programming
A couple of years of general IT job experience
For example, for its Cybersecurity Bootcamp, Evolve Security wants to see candidates with a baseline knowledge of computer science, networking concepts, and the Linux command line. Meanwhile, the majority of applicants to DevLeague's bootcamp have a computer science background or other technical experience.
Advanced
We've assigned the advanced label to bootcamps that tackle specific skill sets in penetration testing, application security testing & ethical hacking. But, again, check the curricula.
Intermediate programs can have challenging courses that may be super-relevant to your work (e.g. reverse engineering, advanced ethical hacking, PCI-DSS in the real world, etc.).
Bootcamp Format & Factors
Delivery Method
The majority of cybersecurity bootcamps are on-campus or hybrid (i.e. a mixture of online and on-campus coursework). This means you'll have repeated access to your instructors, labs, career services, and technical resources. And commuting costs!
However, there are 100% online bootcamps out there. Some have a strict schedule; others are self-paced (e.g. Springboard's offerings). A few companies (e.g. Evolve Security) even offer an on-campus version and a remote version of the same bootcamp. Our directory flags all online options.
Time Commitment
Cybersecurity bootcamps tend to range between 12 weeks (i.e. 3 months) and 36 weeks (i.e. 9 months) in length. You'll see a number of options in the 5-6 month range. These can be full-time or part-time.
But there are outliers. For example, Evolve Security's Practical Penetration Testing and Practical Application Security Testing programs are packed into 5 weeks. NextGenT's bootcamp is completely self-paced.
Keep in mind that coursework isn't going to be your only time commitment. You'll also be working on independent projects, networking with fellow professionals at career events, and (possibly) traveling to and from campus.
Course Structure & Schedule
Bootcamp websites are pretty thorough. You'll usually find details on how courses are structured (e.g. 50% lectures & discussions; 50% labs) and a breakdown of the weekly schedule. In general:
Full-time programs may expect you to be on-campus during business hours (e.g. 9 a.m. – 4 p.m.).
Part-time programs often schedule courses during the evening hours (e.g. 6 p.m. – 9 p.m.) and weekends.
A lot of providers (e.g. SecureSet Academy, Divergence Academy, etc.) like to schedule labs on a Saturday. This gives you the entire day to work on projects and real-world exercises.
Admissions Requirements
Application Process
Cybersecurity bootcamps have no standard education requirements—each one is unique—so we recommend you check the application/admissions and FAQ sections for exact details.
As we mentioned, beginner bootcamps often welcome folks with little to no experience. However, if your skills aren't up to scratch, you may need to go through a prep course or program first (see below).
Intermediate bootcamps will often want to see a foundational knowledge of programming and security concepts. Network+ certification is a common requirement.
As part of the application process, bootcamps may ask you to take a skills test, complete a quick technical & security challenge, and/or submit to a brief interview.
When it comes to advanced options, candidates with BS in a relevant field and baseline certifications (e.g. Security+) may have a stronger edge.
There's often competition for spots in good bootcamps, so it pays to research the requirements and work on eliminating any technical weaknesses before you apply. We should also point out that—in certain cases—alumni get priority. For instance:
Evolve Security pre-qualifies any applicants to its Practical Penetration Testing program who have been through its Cyber Security Bootcamp.
NPower's Cybersecurity Training program is only open to candidates who have completed NPower's Tech Fundamentals offering.
Prep Programs/Prerequisite Work
Don't have any networking or programming expertise? Lacking some fundamental technical skills? You may be able to acquire this knowledge beforehand. For instance:
DevLeague has a structured 4-week Cyber Prep program that can bring you up to speed in computer hardware components, operating systems, networking, Bash, and programming in Python.
SecureSet Academy has developed Prep Workshops that cover the fundamentals of networks, systems, and Python.
Evolve Security has specific Bootcamp Prep Exercises.
Open Cloud Academy has a 1-week Network Fundamentals Boot Camp.
i2 Labs Academy has a free Network+ course.
Some of these will be free; some will require extra tuition. Have a look at the fine print.
What You'll Learn in Cybersecurity Bootcamps
Curriculum
Cybersecurity bootcamps love to incorporate hands-on learning opportunities, class discussions, and independent study into their curricula. We've laid out the typical coursework in a separate section below. Here are some other key factors to consider when you're comparing options:
Coursework: Does it match your skill level and job goals? For each course, check out what topics (e.g. Malware, Secure Design Principles, Firewalls, etc.) and what tools (e.g. Splunk, Kali, Advanced Linux, OpenSSL, CarbonBlack, Hashcat, etc.) are being covered. The CyberSeek Career Pathway has a list of top skills requested for specific security jobs.
Certification Prep: Does the coursework prepare you for relevant certification exams (e.g. Security+)? This isn't the "be all and end all" of a bootcamp, but it's still an important part of the curriculum.
Practice Labs: How many hours per week do you get to spend in lab exercises and training? What kind of technical tools & resources will you have access to?
Live Scenarios: Will you be allowed to participate in real-world simulations, hacking attacks, Red Team drills, and the like?
Real-World Experience: Are you able to work with non-profits on security challenges? Can you complete a series of rotations through a security operations center? Will you participate in an internship?
Career Opportunities: Does the bootcamp have a course dedicated to career preparation? Can you receive help with résumé building, interview coaching, salary negotiations, and the like? Will you have the opportunity to attend networking events and meet with employers and guest instructors?
Final Project: Is there a way to prove your worth? Some bootcamps like to include a final course that will really test your skills. This might take the form of an exam (e.g. Evolve Security) or a capstone project (e.g. Springboard). Other bootcamps will ask you to amass a portfolio of work (e.g. SecureSet Academy) that you can show to employers.
Typical Coursework
Cybersecurity bootcamps tend to have a lot of overlap. As you visit bootcamp websites in the directory, you're going to see the following courses pop up repeatedly:
Security Foundations/Fundamentals
Network Security & Defense
Risk Management
Threats & Vulnerabilities
Cryptography
Computer Forensics
Career Building
Certification Preparation (often Security+)
Depending on your choice of bootcamp, you may also encounter:
Sample Beginner Courses: Maintaining Computers & Operating Systems; System Administration; Network Foundations; Introduction to Linux; Windows Server; etc.
Sample Intermediate Courses: Advanced Systems; SIEM Admin; Advanced SIEM; Ethical Hacking; Incident Handling/Response; Advanced Linux; Security Audits & Cyber Security Management; etc.
Sample Advanced Courses (i.e. Pen Testers): Advanced Infrastructure Attacks; Wireless Pentesting & Exploitation; Python Programming for Security; etc.
But don't worry about the cookie cutter effect! Every bootcamp we've seen has a quirky approach to the subject. Some will lean hard on tools & techniques; others may include administrative, management & strategy subjects for aspiring CISOs. You should be able to find coursework that matches your interests.
Online Bootcamps
When it comes to coursework, 100% online cybersecurity bootcamps are similar to their on-campus counterparts. But there are a few extra factors to bear in mind:
Course Delivery: How are lectures delivered? Are they synchronous (i.e. you have to log on at scheduled times) or asynchronous? Are talks available through HD video? Can you take a course demo or observe a class?
Practice Labs: How are these administered (e.g. browser-based)? Do they offer the same quality as on-campus experiences? Will you be given access to commercial tools & resources? Is anyone there to guide you through the process? For example, Springboard lets you run security tools against the network environment of a fictitious company.
Real-World Projects: How does the bootcamp provide you with job-relevant experiences? Can it help you liaison with a local company in need of help (e.g. internships or security consulting)? What will you be able to put on your résumé? For example, Woz U helps its online students build a project portfolio to show to employers.
Mentorship: Are 1:1 interactions available? Will you have a dedicated mentor? For example, Springboard schedules a weekly 30-minute call with a cybersecurity expert. Students also have access to community teaching assistants, career coaches, and student advisors.
Networking: Can you work in study groups with fellow students? Does the curriculum include team-based projects? How will you stay in touch with alumni after graduation?
Measurable Outcomes
Professional Certification Preparation
Almost all beginner & intermediate bootcamps cover the topics that you'll meet in CompTIA's Security+ exam. In addition:
Once you're at the advanced level, you'll be exposed to specialist options:
Some programs will even walk you through practice exams and present you with an exam voucher upon graduation. Bootcamps will state certification info up-front on their websites. When in doubt, ask for confirmation.
Other Qualifications
Upon graduation, training institutes will present you with a certificate of completion. That's great if potential employers know the name (e.g. Rackspace); not so helpful if the company is obscure. Some independent providers have even gone so far as to develop their own certifications (e.g. Evolve Security Certified Professional—ESCP).
Certain bootcamps (e.g. SecureSet Academy) also offer Continuing Professional Education (CPE) credits—check with the admissions coordinator for details.
Cybersecurity Bootcamps vs. Certification Exam Prep
While you're putting together your shortlist, be aware that cybersecurity bootcamps and certification exam preparation programs are two different beasts. One is a deep-dive immersion into security topics; the other is a quick-fire program designed to prep you for relevant certification exams (e.g. Security+). Here's how they compare…
| POINTS TO CONSIDER | CYBERSECURITY BOOTCAMP | CERTIFICATION EXAM PREPARATION |
| --- | --- | --- |
| Providers | Training Companies, Skills Academies & Universities | Training Companies (e.g. SANS, InfoSec, Training Camp, etc.) & Skills Academies |
| Length | 3-9 Months on Average | 5 Days on Average |
| Cost | ~$12,000-$20,000 | ~$3,000 |
| Delivery | On-Campus, Hybrid & Online | Frequently Online |
| Prerequisites | Beginner bootcamps are fairly open; intermediate-level bootcamps may ask for Network+ certification and/or foundational knowledge of programming and security concepts | If you're preparing for Security+, you'll often need to have an IT background and CompTIA A+ and Network+ certifications (or the equivalent) |
| Curriculum | Instruction, mentoring, class discussions, practice labs, hands-on projects, real-world simulations, networking events, career preparation & internships | Instruction, mentoring, relevant activities & practice exams |
| Coursework | Will typically cover key fundamentals (e.g. network security, threats & vulnerabilities, risk management, cryptography, etc.) as well as courses in specialist subjects (e.g. social engineering, security audits, etc.) | Will focus on preparing you for topics covered in certification exams (including performance-based tasks) |
| Outcomes | Graduates are qualified to apply for entry- and mid-level jobs in cybersecurity fields and take relevant certification exams | Graduates acquire a useful set of skills and are prepared to take certification exams |
Note: You'll occasionally run into what we'd call crossover programs. For example, Tech901's course is deliberately designed to prepare you for Security+ certification, but it's 132 hours and 11-weeks long.
How Much Do Cybersecurity Bootcamps Cost?
Tuition & Costs
Average Tuition
Most cybersecurity bootcamps cost between $12,000 and $20,000. Outliers such as Evolve Security's 5-week Practical Penetration Testing program will cost less (e.g. $3,200).
Per Month Vs. Flat Tuition
In certain cases, you'll have the chance to pay "per month." Springboard works on this model. For example:
Students in the self-paced Introduction to Security bootcamp pay $299 per month for as long as needed (most folks finish in 3 months).
Students in the Cybersecurity Career Track bootcamp can choose to pay $2,900 upfront or $599 per month for as long as needed (most folks finish within 6 months).
Springboard points out that you're likely to save money (~19%) if you choose the upfront option. But you may prefer to stagger your costs while you're working.
Registration & Fees
Watch out for registration fees, tuition for trial courses or prep programs, and any other mandatory charges. Unlike graduate certificates and degrees, bootcamps don't come loaded with extra university fees, but there may still be costs you haven't considered.
Equipment & Course Materials
Bootcamps will usually require you to have a high-powered laptop and a strong Internet connection (especially if you're studying online). You may or may not be required to pay for extra course materials and supplies. Some training companies and academies make a point of using open source resources.
Housing & Transportation
Looking at on-campus bootcamps? Consider your commuting costs and your housing situation. If you're thinking of moving to the area just for the bootcamp, you're often going to be the one responsible for finding accommodation. Sometimes the university or academy may be able to help with suggestions. Check the FAQ section and talk to the admissions coordinator.
Funding Options
Scholarships & Grants
Scholarships: Even private training companies and academies offer scholarships! For instance, Woz U and Evolve Security have funds for military members, veterans, minorities, women, and more. We've seen scholarships that range from $250 to $5,000. Traditional universities tend to offer modest sums (e.g. $500).
State & Federal Aid: We also recommend you look into state grants and federal funding options, especially if you're considering a bootcamp from an ETP provider. For example, at TechLaunch.io, federal financial aid is available to those who qualify.
Training Grants: If you have a low income or you're looking to re-train in IT, check if any organizations in your area offer grants for training programs. For example, many San Antonio students in Open Code Academy's bootcamp are funded through Project Quest, a non-profit workforce development organization.
Loans & Payment Plans
Loan Programs: A number of independent providers have set up loan programs with Skills Fund (e.g. DevLeague, Divergence Academy, and Evolve Security). For these bootcamps, Skills Fund provides low-interest student loans for tuition and the cost of living.
Payment Plans: Some providers also offer staggered payment plans. For example, DevLeague has created TADS, which spreads the tuition for part-time students across the months that they are in the program.
Deferred Payment: In certain cases, you may even be able to defer. Springboard has a "pay when you land a job" option that's available to select students. You pay a small deposit when enrolling; tuition is due once you land a job in cybersecurity.
Employer Sponsorship
Are you currently working in an IT job with a company that you love? Talk to your employer about sponsorship options. Because bootcamps are short, focused, and skills-orientated, your boss may be more than happy to help fund your education.
Military Benefits
We also want to let veterans and current military members know that some independent providers offer GI Bill benefits (e.g. Open Cloud Academy and SecureSet Academy). Again, check with the admissions coordinator for details.
Will a Cybersecurity Bootcamp Advance Your Career?
Defining Your Career Goals
Demand for cybersecurity professionals continues to rise, even as training programs scramble to produce graduates. You can see this phenomenon play out on CyberSeek, a free online resource developed by the U.S. Department of Commerce's National Institute of Standards and Technology (NIST), Burning Glass, and CompTIA.
Interested in beginner bootcamps? Have a good, hard look at the requested educational qualifications in the career pathway. For example, you don't need to have a BS to apply for cybersecurity analyst/technician positions, but you'll be competing with a lot of folks who do. If you're starting with a high school diploma or AS, consider bootcamps that include real-world experiences and internship placement.
Completion & Hiring Rates
We really like cybersecurity bootcamps that track completion & hiring rates. It's an immediate quality marker. For example, in its FAQ section, Evolve Security notes that—as of February 2019:
98% of its graduates seeking a cybersecurity position were hired within 6 months.
Hired graduates experienced a median salary increase of 63%.
Job seeking graduates were hired within 79 days on average.
Graduates median total compensations was $62,200.
In a similar fashion, in its enrollment section, Open Cloud Academy boasts that over the past 5 years:
It has experienced a 98% completion rate.
23% of students were women; 65% were funded by Project Quest.
Project Quest-funded students have reported a 193% wage increase.
If these data points aren't posted on the bootcamp website, go ahead and request them.
Corporate Partners
While you're examining hiring rates, find out if the bootcamp has any corporate partners. Corporate partners often provide input into the curricula and real-world projects; they may also be willing to hire graduates. For example:
Texas-based employer partners at Open Cloud Academy include Rackspace (no surprise there), WP Engine, Jungle Disk, Liquid Web, IPSecure, and GlobalSCAPE.
At TechLaunch.io, Florida hiring partners include SpiderBoost, LaunchCode (i.e. instructor jobs), StartHub, and Tango Mango.
Ask the admissions coordinator about which employers typically show up to the bootcamp's job fairs, networking evenings, and hiring events.
Salary Boost Vs. Bootcamp Costs
CyberSeek will give you the lowdown on average salaries for cybersecurity positions. With a bootcamp qualification, you're often going to be looking at entry-level and mid-level options. In 2019:
Entry-level salaries ranged from $75,000-$99,000 ($99,000 was for incident responders, which we'd classify as more of a mid-level job).
Mid-level salaries ranged from $85,000-$102,000 (Analysts were on the lower end; pen testers earned the most).
If you're working as a network administrator or a systems analyst, the bump in pay with a cybersecurity position can be substantial. You may even be able to make up the cost of a bootcamp (e.g. $12,000) within 1-2 years of working at your new job.
Sample Job Titles For Bootcamp Graduates
Here are the job titles we've found listed on cybersecurity bootcamp websites, in order of seniority:
Systems Administrator
Security Administrator
Security Analyst
Cybersecurity Analyst
Information Security Risk Analyst
Information Technology Security Analyst
Information Security Analyst

Threat Intel Analyst
Compliance Analyst
Information Technology Auditor
Security Engineer
Information Security Engineer
Network Security Engineer
Information Assurance Engineer
Information Security Manager
Security Consultant
Penetration Tester
Ethical Hacker
According to CyberSeek data, the top five "core security" job titles, by employer demand, are:
Cyber Security Engineer
Cyber Security Analyst
Cyber Security Manager/Administrator
Penetration & Vulnerability Tester
Cyber Security Consultant
How to Choose a Great Cybersecurity Bootcamp
Quality Markers
Once you've put together a shortlist of 3-4 bootcamps, do a quick run through of these quality markers:
Relevant curriculum with plenty of job-focused subjects and certification preparation coursework
Professional & credentialed faculty with years of experience, as well as current experts in the field
Skills-based learning & live experiences
Great student feedback on independent review sites
Real-world projects that you can highlight on your job applications
Career support via internships, practice interviews, résumé building, job placement, etc.
High completion & hiring rates (e.g. 95% or above)
Low debt rates
Strong employer partnerships
Remember that you don't have to take a company or university's word for anything. You can ask your professional contacts about their opinions of a provider and connect with bootcamp alumni via LinkedIn to hear the good & bad.
Return On Investment (ROI)
In the end, you want a program that's going to land you a much better paying job. Some bootcamps (e.g. Evolve Security) track salary/wage increases and compensation figures for graduates. Don't be afraid to ask the admissions coordinator for these data.
You'll also want to weigh the merits of a bootcamp versus a graduate certificate or a degree (BS or MS). Academic qualifications tend to cost more, but they do have their ROI benefits:
Once you get into mid-level and higher-level cybersecurity positions, the demand for candidates with a bachelor's degree increases.
Folks in high-powered specialist positions (e.g. a cybersecurity architect working for a multinational company) often have a graduate qualification of some kind.
Talk to your mentors, colleagues, and employer before you make a decision. A bootcamp can be an excellent investment if you have clear employment goals and a sensible career strategy. But it's not going to come for free.
Directory
DevLeague
Level: Intermediate
Location: Honolulu, HI
Length: 34 Weeks (Part-Time)
Cost: $14,500
Eligible Training Provider: Yes
DevLeague's hybrid bootcamp (online & on-campus) has a part-time schedule to suit working professionals. On top of basic fundamentals (e.g. networking), you'll be schooled in a wide range of security topics—including ethical hacking and Python programming—and prepped for A+, Network+, and Security+ certifications. There's even a final security mission.
Candidates are expected to have some computer science background or other technical experience. Funding options include Diversity & Elevate scholarships, the TADS payment plan, and loans through SkillsFund. Career planning is incorporated into the curriculum and DevLeague sends out résumés to hiring managers in its Employer Partner program.
Divergence Academy
Level: Advanced
Location: Addison, TX
Length: 20 Weeks (Part-Time)
Cost: $18,000
Eligible Training Provider: Yes
Divergence's part-time bootcamp (evenings & Saturdays) maintains a 50/50 split between instruction and hands-on labs. In addition to the usual suspects (e.g. network pen testing, ethical hacking, capture the flag events, etc.), the curriculum covers topics such as Python, PowerShell, and Wireshark. Graduates are prepped for CEH certification and find jobs as tier 1+ security engineers, analysts, pen testers, and consultants.
Divergence recommends that applicants have skills in research & analysis, an understanding of basic statistics, and an AS, BS or MS in business or sciences (but none of these points are absolute!). IT certifications are helpful but not required. The academy offers scholarships funded by corporate partners, student loans through Skills Fund, and financial aid at its discretion. If you're lucky, you may also be able to take advantage of early-enrollment tuition promotions!
Evolve Security
Level: Intermediate & Advanced
Location: Chicago, IL & Online
Length: 5 – 17 Weeks (Part-Time)
Cost: $3,200 – $12,000
Eligible Training Provider: Unknown
Evolve Security covers the waterfront. The flagship Cyber Security bootcamp is offered in a hybrid or 100% online format; the 5-week testing programs are online. All of the programs are lab heavy and allow you to earn Continuing Professional Education (CPE) credits.
Funding is available through a wide assortment of merit-based scholarships (e.g. veterans, women, minorities, etc.) and loan options through Skills Fund. Evolve Security also partners with a number of security companies & Fortune 500 partners to place graduates.
The Cyber Security bootcamp starts with introductions to networking & security and progresses to cryptography, social engineering, and forensics. You'll gain experience with major tools, participate in 1:1 competency assessments, and perform live security assessment work for non-profit companies. After successfully completing a 3-hour exam and a 7-hour hands-on lab, you'll receive a Security+ certification voucher and an Evolve Security Certified Professionals (ESCP) certificate.
Candidates are expected to be familiar with the basics of computer science, networking concepts, and the Linux command line. Those with a relevant degree, IT certifications, and/or IT & development experience are strongly considered.
Evolve Security's online testing bootcamps are aimed at aspiring penetration testers and professionals who need to know how hackers breach organizations. They're delivered through live instruction, record lectures, and lab tutorials; labs are based off real-world situations (i.e. no capture the flag exercise or invented scenarios). Graduates emerge with the ability to deliver a full pen test at the network and application layer—from scoping, threat modeling, and discovery to vulnerability scanning, exploitation, and reporting.
Candidates are expected to have a basic knowledge of TCP/IP and Linux command line, but programming knowledge is not required. Folks who have completed the Cyber Security bootcamp or hold a BS or MS in Info Security or have Security+, CSA+, CEH, or a relevant certification are pre-qualified.
HackerU
Level: Beginner & Advanced
Location: Multiple Cities
Length: 30 Weeks – 13 Months (Part-Time)
Cost: $13,000 – $16,000 (Including the $1,000 Trial Course)
Eligible Training Provider: Unknown
HackerU bills itself as "Israel's premier cyber security & IT education provider." Like Trilogy Education Services, it provides government, businesses, and continuing education institutions with training programs. HackerU delivers the bootcamp; the university or education partner acts as the host.
You have two options with HackerU—the Cyber Security Professional Bootcamp and the Cyber Security Ethical Hacking Bootcamp. Both options include immersive simulation labs, customized interview training, career planning, and an internship placement assistance program.
To apply, you'll go through a phone consultation and a face-to-face meeting to determine your career goals & skill level. You'll then take a 40-hour introductory course. After the course, you'll be required to pass an exam and complete a 1:1 evaluation. Finally, you'll be allowed to complete the rest of the program.
Cyber Security Professional Bootcamp
This 13-month bootcamp is aimed at true beginners. The initial trial course provides an introduction to Windows & Linux operating systems as well as software & hardware fundamentals. Once you're through that hurdle, you can focus on Linux, Windows Server 2012, Cisco, and Python, as well as courses in cyber threats & attacks and cyber defense & architectures. You'll be prepped for the following certification exams: Cisco CCNA, Network+, Security+, and SSCP. Applicants do not need any prerequisite experience in IT. Those with self-taught technical backgrounds are encouraged to apply.
Ethical Hacking Bootcamp
This 30-week advanced bootcamp is particularly suitable for current IT professionals, programmers & developers, and members of Cyber Blue Teams. The trial course includes an introduction to encryption and hands-on cyber attack simulations. You'll then take courses in advanced infrastructure attacks, cross-platform elevation of privileges, Python programming, web application pen testing, and hacking fundamentals. Red Team drills and real-world labs are included. Students are prepped for CEH and OSCP certification exams. Candidates should have a degree in Computer Science or comparable work experience in IT, coding, or programming fields. Graduates go on to careers in ethical hacking, penetration testing, and cyber security crime investigation.
Providers
TurnToTech
University Of Miami
I2 Labs Academy
Level: Intermediate
Location: Miami, FL
Length: 20 weeks (Full-Time); Part-Time Available
Cost: $12,000
Eligible Training Provider: Unknown
i2 Labs Academy's bootcamp is a "soup to nuts" program that covers an extensive range of security topics, including Linux, PowerShell, ethical hacking, SIEM, wireless network security, mobile platform security, and reverse engineering. Labs and project-based activities are emphasized. You'll also get to complete a series of rotations in an actual security operations center.
Applicants should have a high school diploma or GED and a basic knowledge of computer networks (Network+ certification or the equivalent is suggested). Loans are available through i2 Labs Academy and other lending institutions. Graduates are prepared for jobs as entry-level security analysts, security administrators, and pen testers.
NextGenT
Level: Intermediate
Location: San Jose, CA & Online
Length: Self-Paced
Cost: Not Provided
Eligible Training Provider: Unknown
As of Spring 2019, NextGenT's online program was "coming soon," so specific details on coursework and format are scanty. However, we can tell you that it plans to cover cryptography, network security, white hat hacking, and teach important skills in securing corporate networks, hardware, software, and data. NextGenT was founded by Terry Kim and Jacob Hess. The company also offers access to 1000+ practice labs, expert mentors, and focused projects (e.g. networking).
NPower
Level: Beginner
Location: New York City, NY & Dallas, TX
Length: 26 Weeks (Full-Time)
Cost: Free to NPower Alumni
Eligible Training Provider: Unknown
Here's a special case! NPower is a national non-profit that provides free technology training and career development for young adults (18-25) and military veterans and spouses. Its free full-time bootcamp is only open to NPower Tech Power Fundamentals alumni who are seeking more advanced IT training.
In return for their studies, these lucky students receive a weekly stipend, individual mentorship with senior-level security professionals, and the opportunity to earn Network+ and Security+ certifications and an IT Generalist Apprenticeship credential in TX & CA. The program also includes a 12-week paid internship, career development workshops, and access to NPower's alumni network. Graduates go on to jobs as cyber security analysts, info security risk analysts, and systems administrators.
Open Cloud Academy
Level: Intermediate
Location: San Antonio, TX
Length: 13 Weeks (Full-Time)
Cost: $16,000
Eligible Training Provider: Yes
Open Cloud Academy (OCA) was founded by Rackspace, a cloud computing company based in San Antonio. That means this fast-paced, full-time bootcamp goes heavy on practical work—80% hands-on skills and 20% lectures. In addition to studying subjects such as Linux, Windows support fundamentals, and IT auditing & PCI-DSS, you'll take 2 dedicated courses that will prepare you for Security+ and CISSP topics. (Exam vouchers are provided upon graduation.) Plus you'll participate in career workshops, a volunteer day, a Rackspace tour, and employer networking events.
To apply, candidates must provide proof of Network+ Certification or complete (and pass) the academy's free, 1-week Network Fundamentals Boot Camp. A large number of students in OCA's program are funded by Project Quest, a non-profit agency in San Antonio. OCA also accepts GI Bill & VA Education benefits.
SecureSet Academy
Level: Intermediate & Advanced
Location: Denver, CO
Length: 12 – 36 Weeks (Full-Time & Part-Time)
Cost: $11,950 – $19,950
Eligible Training Provider: Yes
SecureSet Academy has an assortment of rigorous bootcamps that come in full-time or part-time options. The curriculum is split 50/50 between instruction and labs (e.g. hands-on exercises and product training) and students have the option to prepare for relevant industry certifications. Instead of a final exam, you'll build a portfolio of your security work.
Applicants to all of the bootcamps go through a 1-3 week admissions process with 1-2 interviews as needed. There are no absolute criteria, though certain bootcamps have specific suggestions. (Study guides, foundation workshops, and prep courses are available.) SecureSet offers scholarships and GI Bill benefits. Students have also secured grants through the Colorado Department of Labor and Employment.
The CORE program is a 20-week immersive bootcamp that tackles fundamentals such as network security, system security, logs & detection, threat intelligence, and cryptography. But it also includes more management-focused courses such as Governance, Risk, and Compliance (GRC), strategy & analysis, and security culture. Applicants should have a basic working knowledge in networking and/or programming. Graduates find work as tier 1+ security engineers, analysts, pen testers and consultants.
The 12-week HUNT program is primarily aimed at budding cyber security analysts. There's a good deal of administrative coursework (e.g. network admin, SIEM admin, system admin), as well as work in security culture, GRC, and strategy & analysis. Threat intelligence and Hunt skills (e.g. Threat ID & surveillance) are specifically addressed. Candidates should have a basic knowledge of networking and/or programming and analytical abilities. Common job titles for graduates include tier 1+ security analysts, threat analysts, and hunt analysts.
The part-time, 36-week PATH program (with open labs on Saturdays) covers a lot of the same ground as the CORE and HUNT programs. However, it allows you to choose either an analytical or an engineering path. Yes, there's foundational coursework, but you'll also find higher-level subjects such as advanced SIEM, application security, and incident response. Graduates are eligible for jobs as tier 1+ SOC analysts, threat intel analysts, security consultants, compliance analysts, security engineers, technical analysts, and pen testers.
Springboard
Level: Beginner & Intermediate
Location: Online
Length: Self-Paced (Typically 3-6 Months)
Cost: $299 – $599 Per Month
Eligible Training Provider: Unknown
Springboard's 100% online bootcamps come in 2 flavors—an Introduction that's suitable for beginners and a Career Track that's aimed at more experienced professionals. Both programs include weekly 1-1 video calls with a personal mentor, technical labs, and extensive practice with current tools—around 50% of your hours will be devoted to project work. You'll also be able to network with students in a private community and attend weekly office hours for career advice.
When it comes to tuition, you have the option to pay on a "per month" basis. Low-interest loans are available through Climb Credit. Springboard also offers deferred payment to select students—you pay a small deposit at the beginning and the remainder of the balance once you've landed a job.
This program takes around 3 months to complete (on average). Coursework covers areas such as security fundamentals, architecture & design, technologies & tools, threats & vulnerabilities, risk management, cryptography, and the like. There's also a capstone project that's focused on a real-life security scenario. Graduates will be ready to take the Security+ certification exam. There are no specific prerequisites for this bootcamp, but a basic knowledge of computers and networking would be beneficial.
In contrast, the Career Track takes around 6 months to complete. It's designed for aspiring software/application security analysts and it involves coursework in areas such as secure lifecycle management, application security, application design, programming & implementation, and deployment & maintenance. A multi-part capstone project that involves a comprehensive risk and vulnerability assessment is included. Graduates receive optional prep materials for CEH and CISSP certification exams. Applicants are expected to have technical (e.g. IT or Computer Science) or entry-level security backgrounds. Springboard will screen for a foundational knowledge of programming and security concepts.
Sun Training Center
Level: Intermediate
Location: Miami, FL
Length: 24 Weeks (Part-Time)
Cost: Not Provided
Eligible Training Provider: Unknown
Sun Training Center was created to meet employer demand for skilled IT professionals, so its focused bootcamp covers all of the major skills needed to land a security job. We're talking about coursework in operating system security, network defense, incident response, ethical hacking, intrusion detection, legal issues, and network security management. Students are prepped for Security+ and CEH certification.
Candidates are expected to have a minimum of two years of documented work experience in networking or a related field (e.g. experience with C/C#/C++ programming, computer networks, operating system design, algorithms and data structures, and computer organization).
TechLaunch.Io @ FVI
Level: Beginner
Location: Miami & Miramar, FL
Length: 36 Weeks (Full-Time)
Cost: $14,300
Eligible Training Provider: Yes
TechLaunch.io is hosted by the Florida Vocational Institute, and its curriculum is designed with the South Florida job market in mind. The hands-on bootcamp is a mix of lectures, discussions, exercises, and labs. There are courses in fundamentals (e.g. maintaining computers & operating systems, Linux, etc.), cyber security (e.g. ethical hacking, network defense, and forensics), and specific technologies (e.g. AWS & Azure, Windows, Cisco routing & switching, etc.). Students are prepped for Network+, Security+ and Window Server Administration Fundamentals (MTA-365), as well as a portion of CCNA and Cloud+.
To be considered, applicants must have a high school diploma and pass a Scholastic Level Exam (SLE) with a score of 14 or higher. Alumni of New Horizon Institute IT programs are eligible for a New Horizons scholarship ($500 per-term tuition reduction). Federal financial aid is available to those who qualify. Graduates typically proceed to careers in IT security and cloud computing.
Tech901
Level: Intermediate
Location: Memphis, TN
Length: 11 Weeks (Part-Time)
Cost: $250
Eligible Training Provider: Unknown
This bootcamp from a Memphis-based non-profit is a bit of an outlier! It's a short, 11-week course that's designed to prepare you for Security+ certification. However, it also addresses soft business skills and technical security topics, which is why we've included it in the directory.
And it's cheap. Thanks to backing from First Tennessee Foundation and other organizations, this part-time program only costs $250—in total. Applicants are expected to have Network+ or Cisco CCENT or a higher level certification. Graduates tend to find entry-level jobs as security analysts.
Trilogy Education Services
Level: Beginner
Location: Multiple Cities
Length: 24 Weeks (Part-Time)
Cost: Not Provided
Eligible Training Provider: Unknown
Trilogy Education Services is an NYC-based education technology company that partners with universities to offer IT boot camps. Courses are held on the university partner's campus. As far as we can determine, almost all traditional universities in our directory have outsourced their cyber security bootcamps to Trilogy.
Therefore, no matter which university website you visit, you're going to be looking the same part-time bootcamp that lasts 24 weeks. It will include discussions, lab work, and hands-on projects, as well as portfolio reviews, project demo days, and virtual tech panels. You'll tackle coursework in networking, systems, programming & scripting, security, and ethical hacking, where you'll be schooled in useful tools (e.g. Wireshark, Kali Linux, Metasploit, Python etc.). Plus you'll be prepped for Network+ and Security+ certification. Career support includes technical interview training, one-on-one career coaching, and résumé building.
Applicants are expected to have a high school diploma or GED. No prior experience is required, but pre-course tutorials can help prepare you for the curriculum. IT professionals (e.g. network administrators, web developers, etc.), managers who must handle sensitive data, and tech enthusiasts are encouraged to apply. You'll be expected to go through an initial phone interview, take an academic coding test, and then have a final interview.
N.B. One thing to keep in mind is that Trilogy doesn't publicly post data about the success (or lack thereof) of its graduates. It only shares this info among its university partners.
University Providers
Woz U
Level: Beginner
Location: Online
Length: 33 Weeks (Part-Time)
Cost: $13,200
Eligible Training Provider: Unknown
Founded by Steve Wozniak, Woz U is now led by Lee McWhorter. It offers a 100% online bootcamp that combines HD video instruction, browser-based labs, and live mentoring & teaching. The curriculum contains a lot of fundamentals (e.g. network defense, system administration, programming foundations, project management, etc.) as well as more complex security topics (e.g. cryptography, web application security, and threats & vulnerabilities). You'll emerge with a project portfolio at the end of your studies.
Candidates are expected to have Network+ certification (or the equivalent). If you don't, you'll need to pass a readiness test. Grants are available for women, students who commit to particular payment plans, and military, veterans & spouses. The bootcamp also includes career preparation (e.g. résumé building) and job placement assistance.
SCHOOL RANKINGS
USEFUL RESOURCES
Accredited Online College Programs
Some of the fastest-growing jobs are in information security. Jump-start your career by learning about the best online cybersecurity degrees.
An online master's in cybersecurity can boost your career options and earning potential. Check out our program rankings to kick off your search.
The best cybersecurity schools prepare students for exciting and lucrative IT careers. Explore our ranking of the best cybersecurity bachelor's degree programs.
Are you ready to find a school that's aligned with your interests?
Find the right education path to take advantage of this fast-growing industry and join the front-lines on technology and security.