Cybersecurity Programs in Florida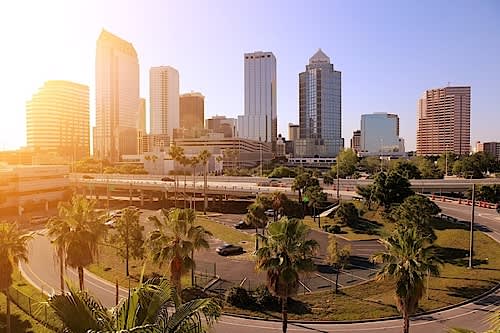 Are you ready to find a school that's aligned with your interests?
Find the right education path to take advantage of this fast-growing industry and join the front-lines on technology and security.
Florida's known for its beaches and theme parks, not its tech innovations. That may soon change, with the state government making an active push to recruit, educate and retain cybersecurity professionals. In just the past few years, dozens of certificate and degrees options have popped up in the state. See a list of Florida schools with cybersecurity programs right now, or scan our guide to schools, scholarships and salaries in the Sunshine State.
Studying Cybersecurity in Florida
Florida is tied with Texas for having the second-most NSA/DHS Centers for Academic Excellence (CAE) of any state, with 14. Eight of them are public colleges or universities, great news for Floridians who want a high-quality education at an in-state tuition rate. Indeed, several of these state universities are extra active in cybersecurity:
The University of Central Florida isn't in the Ivy League, but its cyber security club team consistently beats Harvard and the like. At the 2016 CyberSEED Competition, the UCF Collegiate Cyber Defense Club took home first place in two of the three competitions, winning over $25,000 in the process. It isn't just luck. They've also won the National Collegiate Cyber Defense Competition three years in a row (2014 to 2016), besting over 175 other competitors.
University of Florida doesn't have any cybersecurity degree programs, but it's a great place to be a postgraduate researcher. That's because UF is home to the Florida Institute for Cybersecurity Research (FICS). Unlike a lot of security research centers, it places a heavy emphasis on hardware, evident in the nanoscale imaging equipment at its SeCurity and AssuraNce (SCAN) Lab. That's not to say it doesn't research other areas of information security — in 2016 FICS researchers announced they had created a practical antidote to ransomware.
Online Cybersecurity Programs in Florida
Because cybersecurity is a relatively new academic discipline, it's harder to find programs of any kind compared to, say, standard Computer Science degrees. If you're looking online, your options dwindle further.
Florida follows the trend of most states, with a few private colleges carving out a niche in online cybersecurity programs and dominating the scene. In this case, it's Saint Leo University and St. Petersburg College, both of which have programs across multiple academic levels. Public colleges in the state do have a presence, however. They're just more likely to cherrypick which programs they place online. Most — including UCF, USF and UWF — have chosen to focus on their online master's offerings. And with the support of the Florida Center for Cybersecurity at USF (the de facto cybersecurity workforce development program for the state) available to students at any of those three schools, they can dominate graduate recruitment.
Top Online Programs
Explore programs of your interests with the high-quality standards and flexibility you need to take your career to the next level.
Online Associate Degrees in Cybersecurity
Associate degrees are designed for students without any knowledge of the subject. For cybersecurity specifically, that means introductory courses in networking, programming and computer hardware before advancing to things like database and network security.
If that's what you're looking for but want it in a purely online form, there's pretty much only one place to find it in Florida: St. Petersburg College. SPC doesn't make lofty promises about where graduates of its Cybersecurity program will find work, instead noting that it prepares students for any of four roles: help desk technician, network administrator, technical support specialist or IT security specialist. If you want something more CSI, try SPC's online Digital Forensics and Computer Investigations degree. It combines criminal justice coursework with the most essential classes from the Cybersecurity degree.
Online Bachelor's Degrees in Cybersecurity
Most employers want to see candidates with bachelor's degrees, and there are a few ways of earning one. If you've already got an associate degree but it's not in security, you can specialize in it. Cybersecurity baccalaureate programs get applications from computer science majors all the time, and many have mechanisms in place for enrollees without a tech background to get up to speed.
There are a number of campus-based programs, but if you want to go exclusively online to a Florida school, you can't be as selective. Keiser University's bachelor's program in Cyber Forensics/Information Security is one option for students with an AS from an IT program who want to apply that knowledge toward investigating computer-based crimes. Indian River State College is another option. Its information technology/cyberesecurity BS is geared toward students who are more interested in mitigating security breaches than investigating them. Want more distance learning options? Saint Leo rolled out a BS in Cybersecurity in 2016 and FAU announced that same year that it is adding a cybersecurity track to its Bachelor of Public Safety Administration program.
Online Master's Degrees in Cybersecurity
Whereas online associate and bachelor's degree options are sparse for Florida cybersecurity students, there are many distance ed master's programs. Which is as it should be, because that's when the most opportunity for specialization within the field arises.
You can find the vanilla options at private schools, such as Saint Leo University. Its MS in Cybersecurity assumes no prior knowledge of the subject (only proficiency with computers in general) and pumps out graduates who can go into government, business or academia. Several of the state's public universities also have basic programs, such as USF (MS in Cybersecurity) and UWF (MS in IT with Cybersecurity specialization), depending on how much security content you actually want to get.
If you know the type of job you want after your degree, you can get really specific. UCF's Digital Forensics MS is for tomorrow's investigators who are shooting for government posts. If it's a business path for you, Florida Institute of Technology has an MBA in Cybersecurity. It's about assessing and lowering the risks of security breaches in a corporate setting, and doesn't require programming knowledge. Those new to the field will find it interesting, but the cybersecurity portions of the curriculum would be repetitive for anyone holding a certificate or degree in the discipline.
Online Certificate Programs In Cybersecurity
A certification is different from a degree or a specialization because it's a chance to dabble in cybersecurity without committing to studying it for more than a year. There are two basic groups of students who might do this: Those without a degree and those who already have a baccalaureate. Further, because of their short timeframes, online certifications are ideal for professionals who can commit to doing coursework after their nine-to-fives.
Florida has options for almost any taste or need. The Cybersecurity certificate from St. Petersburg College is for those without any higher education. It can be rolled into an associate degree, but it's enough on its own to prepare students for the CompTIA Security+ professional certification exam. Elsewhere, the Graduate certificate in Information Security Management at Saint Leo is intended for current government staff or businesspeople who need to manage computer-based risks as part of their job. It's for people who manage cybersecurity, not the folks with their hands on the keyboard, so expect more in the way of principles than practice.
The biggest player in online cybersecurity certificates, however, is University of West Florida, simply because it has the most programs. Undergrads and graduates alike can enroll in an Information Security Management certificate program, and the school offers undergrads an Intelligence Analysis certificate option to learn how to interpret computer data in a law enforcement setting. It also has a program you can't find elsewhere: the Geospatial Cybersecurity certificate (undergraduate or graduate), which merges the fields of geographic information science and cybersecurity.
Cybersecurity Scholarships in Florida
Cybersecurity is a relatively new academic discipline. As such, college departments haven't had time to attract many endowed scholarships from successful graduates and professional societies. But STEM (science, technology, engineering and math) subjects in general are draws for funds, and cybersecurity students fall under this category. The following section highlights a few cybersecurity-specific awards (usually funded by government agencies) and some relevant STEM and tech scholarships available for students at specific colleges:
Florida State University
CyberCorps Scholarship For Service: The Scholarship for Service is the holy grail for cybersecurity students, and FSU gains a huge recruitment edge by being the only Florida school to have it. Why? Students who receive it pay no tuition or fees and receive yearly stipends of $20,000 (undergraduates) or $32,000 (graduate students and Ph.D. candidates).
Department of Defense Information Assurance Scholarship: Another full-ride award, the DoD Information Assurance Scholarship is a worthy consolation prize. In addition to free tuition, it gives stipends worth $17,000 to undergraduate upperclassmen and $22,000 to grad students.
Nova Southeastern University
Edward Lieblein Memorial Scholarship: Are you a federal worker enrolled as a grad student at Nova's College of Engineering and Computing? With a 3.0 GPA and a few letters of recommendation, you might win $500 to $2,000 toward that Master of Science in Information Security.
Emerging Technology Professional Scholarship: Star students at one of the College of Engineering and Computing's master's programs, including MSIS, who already have a couple of classes under their belt can get $1,000 toward the next few courses. Financial need is a criteria, and students must have a 3.0 and strong references.
Professor Laurie Dringus Scholarship: With one semester at the College of Engineering and Computing down and a 3.0 notched, don't let lack of funds stop you from continuing. Send in letters of reference and apply for this award worth up to $1,000.
Pasco-Hernando State College
American Data & Computer Products Scholarship: Tech students can win a scholarship from the Tampa business of the same name. The scholarship committee prefers to hand out awards to veterans and/or students from ethnic minorities.
Richard and Eileen Cooper Scholarship: There are two basic qualifications for this award. The first is to have demonstrable financial need. If you're reading this, you probably qualify. The second is to be majoring in a computer or tech field, and the school's IT Security program definitely meets that standard.
St. Petersburg College
The University Of West Florida
IT Performance Scholarship: The UWF Center for Cybersecurity makes these scholarships available to students in multiple degree programs, but it throws a few extra toward students in the BS in Cybersecurity program. The value? $2,000 to $2,500 plus extra help with professional development.
Cybersecurity Events in Florida
Cybersecurity Meetups and Communities In Florida
After you're done looking at the screen, get out and meet some people with a similar interest in cybersecurity. CitySec is the most laid-back of groups for information security professionals, prioritizing beer and informal networking over structured presentations or discussions. There are three of them in Florida: SoFloSec just north of Fort Lauderdale, CitrusSec in Orlando and CigarCitySec in Tampa. If you're looking for a meetup with more meat, try one of the following:
Cybersecurity Conferences and Workshops In Florida
It won't surprise you that Florida's beaches are a huge draw for the conference crowd. Many major conferences roll through town at least once a decade. But there are a few options if you're based in Florida and looking for an annual event to circle on your calendar. The TEDx version of cybersecurity is called B-Sides and leverages knowledgeable locals to organize conferences across the world, including in Orlando, Tampa and Jacksonville. There are also more traditional conferences — the kind your company might pay for you to go to — organized by universities, society chapters and big vendors. Here are five to watch for:
Cybersecurity Jobs in Florida
The Florida Center for Cybersecurity is at the center of workforce development. The state legislature created it in 2014 with the goal of making the Sunshine State the national leader in cybersecurity. While it's not quite there — Virginia, Texas, California and New York all have built-in edges — it's being strategic about growth. For instance, it's partnered with JPMorganChase and the state's Office of Veterans Services to provide free cybersecurity training for vets and set them up with jobs after graduation.
There are also a few Florida businesses that need cybersecurity grads now. Fidelity National Information Services in Jacksonville is one of them. It's a Fortune 500 company that provides financial services to companies, necessitating staff who can ensure transactions go smoothly without interference from cyber criminals.
There are also a number of companies whose businesses are entirely centered around cybersecurity. Seven Florida companies are on the Cybersecurity 500, Cybersecurity Ventures' list of the world's best companies in the industry: Easy Solutions, Veriato, KnowBe4, Appriver, INFOSIGHT, Harris and Citrix.
But the overall job forecast for cybersecurity grads is unclear. On the one hand, the state is anything but saturated with professionals, with demand for cybersecurity professionals just two-thirds to three-fourths (depending on the source) what it is nationally. On the other hand, two Florida cities — Miami (6th) and Tampa (8th) — ranked in the top 10 for cybersecurity job growth from 2010 to 2014.
Cybersecurity Salaries in Florida
One way Florida can become a cybersecurity nexus is by increasing salaries. The state's information security analysts make an average salary of $83,710 in 2015, compared to a national average of $93,250. And although the state's cost of living is slightly below the national average, that's still a large difference in wages, especially when you consider the major growth is taking place in coastal areas such as Miami and Tampa, whose views come with higher rents. Then again, $80K+ a year for a job near the ocean doesn't seem so bad, does it?
All Cybersecurity Programs in Florida
Below are all the matching programs we found in our directory, from 21 Florida schools.
SCHOOL NAME
PROGRAMS
NSA
Daytona State College
Daytona Beach, Florida
Advanced Technical Certificate – Cybersecurity and Cyberforensics
NSA
CAE
Embry-Riddle Aeronautical University
Daytona Beach, Florida
Master of Science in Cybersecurity Engineering
Master of Science in Cybersecurity Management and Policy
Florida Agricultural and Mechanical University
Tallahassee, Florida
Cyber Defense Certificate
Information Assurance Certificate
NSA
CAE
Florida Atlantic University
Boca Raton, Florida
Bachelor of Management Information Systems (MIS) – specialization in Information Security and Business Analytics
Master of Science in Applied Mathematics and Statistics – cryptology track
NSA
CAE
Florida Institute of Technology
Melbourne, Florida
MBA in Cybersecurity
MS – Information Assurance and Cybersecurity
NSA
CAE
Florida International University
Miami, Florida
Master of Science in Computer Engineering with a concentration in Network Security
Florida Polytechnic University
Lakeland, Florida
Bachelor of Science in Computer Science: Information Assurance and Cybersecurity
Florida State College at Jacksonville
Jacksonville, Florida
Associate in Science in IT Security
Technical Certificate in Digital Forensics
NSA
CAE
Florida State University
Tallahassee, Florida
Master of Science in Computer Science – Cybersecurity Major
NSA
CAE
Indian River State College
Fort Pierce, Florida
Associate of Arts in I.T. Management and Cybersecurity
Keiser University
Fort Lauderdale, Florida
Cyber Forensics/Information Security, BS
Nova Southeastern University
Fort Lauderdale, Florida
Master of Science in Cybersecurity Management
Master of Science in Information Assurance and Cybersecurity
NSA
CAE
Palm Beach State College
Lake Worth, Florida
Associate in Science – Networking Administrator
Bachelor of Applied Science in Information Management – Security and Network Assurance
Certificate in Network Security
Pasco-Hernando State College
New Port Richey, Florida
Cyber and Information Security – Associate in Science
Saint Leo University
Saint Leo, Florida
Bachelor of Science in Cybersecurity
Master of Science in Cybersecurity
NSA
CAE
St Petersburg College
Clearwater, Florida
Associate in Science – Cybersecurity
Associate of Science in Digital Forensics and Computer Investigations
Certificate in Cybersecurity
The University of West Florida
Pensacola, Florida
Bachelor of Science in Cybersecurity
Certificate in Cybersecurity
Certificate in Information Security Management
Certificate in Intelligence Analysis
Master of Science in Cybersecurity
University of Central Florida
Orlando, Florida
Digital Forensics MS
Graduate Certificate in Computer Forensics
NSA
CAE
University of Florida
Gainesville, Florida
Certificate in Hardware Security
Certificate in Information Security
NSA
CAE
University of South Florida-Main Campus
Tampa, Florida
Graduate Certificate in Cybersecurity – Awareness and Education
Graduate Certificate in Cybersecurity – Cyber Intelligence
Graduate Certificate in Cybersecurity-Digital Forensics
Graduate Certificate in Cybersecurity-Information Assurance
Master Degree in Cybersecurity with a concentration in Cyber Intelligence
Master's in Cybersecurity – Digital Forensics
NSA
CAE
Valencia College
Orlando, Florida
Cybersecurity Certificate
Digital Forensics Technical Certificate
NSA
CAE
School Rankings
Useful Resources
Considering an online cybersecurity degree? Read on to learn about online bachelor's programs in cybersecurity and how to choose from top cybersecurity programs.
An online master's in cybersecurity can boost your career options and earning potential. Check out our program rankings to kick off your search.
The best cybersecurity schools prepare students for exciting and lucrative IT careers. Explore our ranking of the best cybersecurity bachelor's degree programs.
Are you ready to find a school that's aligned with your interests?
Find the right education path to take advantage of this fast-growing industry and join the front-lines on technology and security.