How to Become a Security Specialist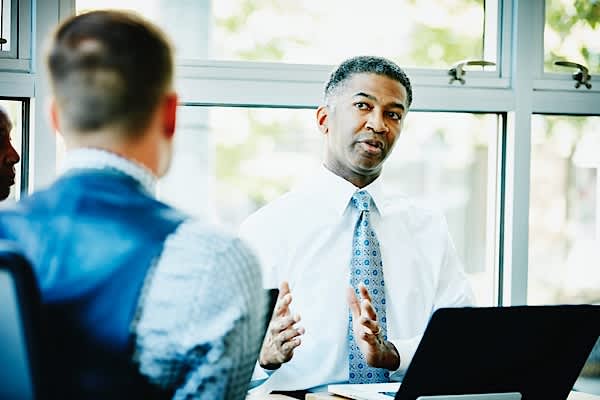 Are you ready to find a school that's aligned with your interests?
Find the right education path to take advantage of this fast-growing industry and join the front-lines on technology and security.
Security specialists become more crucial as cloud computing and business reliance on technology increase. These professionals take charge of their organizations' cybersecurity, keeping tabs on existing security infrastructure to ensure systems protect vital information. They run regular checks and suggest improvements as necessary, which makes them responsible for staying current on best practices and responses to new threats.
PayScale reports the median security specialist salary as $76,000. Experience in the field may increase annual wages to upwards of $100,000. Vital to many industries across the nation, security specialists enjoy a wealth of job opportunities in industries as diverse as aerospace engineering, banking, manufacturing, and entertainment.
This page covers detailed information regarding security specialist careers, including their day-to-day responsibilities. It also touches on top employers; security specialist requirements including education, skills, certifications, and experience; and important data such as salary potential and projected occupational growth.
What Does a Security Specialist Do?
Security specialists take responsibility for their organizations' computer-related security, ensuring company data remains secure and protecting against cyberattacks. Companies hire these professionals to prevent security breaches by analyzing current systems, researching ever-evolving risks, suggesting improvements, and implementing changes.
Specific fallout from security breaches can vary depending on the type of work an organization does. Generally, cyberattacks can result in the loss of consumer confidence, sensitive information leaks, network failures, stalled production, and compliance infractions, giving security specialists a crucial role in their company's overall health.
Security analysts spend their days studying the devices in use, analyzing network structure, and testing security measures like firewalls and software permissions. They look for weak points and aim to shore up defenses. They also report regularly to upper administration and may have to present findings and recommendations before management. Security analysts sometimes work with other departments to ensure their colleagues understand the organization's best practices for information security.
Employers often require security specialist candidates to boast prior job experience, potentially through entry-level positions with information security teams or internships completed as part of college studies.
Steps to Become a Security Specialist
Information security requires employees to possess hard skills, such as programming languages, and engage in complex technological solutions. Therefore, these jobs require a college degree. Security specialists should begin by obtaining a bachelor's degree in information security or a related area, such as computer science.
Top Online Programs
Explore programs of your interests with the high-quality standards and flexibility you need to take your career to the next level.
Security specialists use the skills developed in their degree programs when they implement and modify software and engage in deep computer system analysis. They need a thorough understanding of computer and network infrastructure to identify problems and effectively apply solutions to any breaches that may occur.
Many employers require security specialists to obtain prior work experience in information security or a related field. Experience in a particular industry, such as banking, may give aspiring security specialists a leg up on other applicants aiming to work in that specific field.
Aspiring security specialists can seek out internships and make connections through the professors in their programs. Entry-level security specialists may work as subordinate team members or enter the field through more junior positions in IT departments.
Often required for career advancement, security certification can also help candidates bolster their resumes and stand out in the job market. Some popular security certification options include: certified wireless network professional, which includes mid-tier and advanced levels for securing WiFi networks; CompTIA Security+, which validates foundational knowledge and hands-on skills; and global information assurance certification in security essentials, penetration testing, and incident handling.
By obtaining such professional credentials, security specialists validate and even improve their skills as security professionals, paving the way to more expertise and job opportunities.
Top Required Skills for a Security Specialist
Every job opening comes with a specific set of requirements, but security specialists generally must understand programming languages such as C, C++, Java, and PHP. These allow professionals to work with software programs to create better security measures. Employers also expect security specialists to understand user authentication methods, firewall configuration, vulnerability testing, and security administration.
Project management experience also boosts employees to leadership positions, as senior security specialists create proposals and may lead teams in implementing plans.
Security specialists must develop problem-solving and critical thinking skills, plus the communication skills necessary to liaise with company executives. Security specialists must explain complex computer issues in layman's terms to help managers make decisions and tutor colleagues in best practices. As such, strong interpersonal skills can also set up security specialists for workplace success.
Information security students develop the skills they need by taking courses in IT fundamentals, cloud security, cryptography, network security, database security, ethics for IT professionals, and project management. Some programs require students to complete hands-on capstone projects, perhaps in the form of technical proposals. These strongly benefit applicant portfolios as they enter the job market.
Programs related to security specialist education typically understand the benefit of professional certifications. Many align their curricula to complement widely required credentials, while others offer certain certifications as a part of their studies.
Security Specialist Salary
According to PayScale, security specialists with more than nine years of experience earned a median annual salary of $95,841. Security specialist salary prospects improve as employees gain more specialized skills in areas like risk management, security information and event management, cybersecurity, and security testing and auditing.
Location can strongly affect security specialist salaries, as well. Those in New York City, Washington, D.C., Seattle, and Columbus earned wages exceeding the national average by as much as 33%.
The U.S. Bureau of Labor Statistics predicts a 12% growth nationwide for computer-related occupations from 2018-2028, far outpacing the national average growth rate for all occupations. As cloud computing grows every year and cyberattacks evolve, employers need security specialists to help keep their companies safe.
Salary also varies widely by industry. Major companies paying security specialists well above the national average include the Boeing Company, the Walt Disney Company, and American Express Co, according to PayScale. Aspiring security specialists may also find ample opportunities in companies like CACI International Inc, American Electric Power, and IBM.
Looking for More Cyber Degree Programs?
NOTE: Take a look at our Guide to Cybersecurity Certifications for more information and advice.
School Rankings
Useful Resources
Accredited Online College Programs
Some of the fastest-growing jobs are in information security. Jump-start your career by learning about the best online cybersecurity degrees.
An online master's in cybersecurity can boost your career options and earning potential. Check out our program rankings to kick off your search.
The best cybersecurity schools prepare students for exciting and lucrative IT careers. Explore our ranking of the best cybersecurity bachelor's degree programs.
Are you ready to find a school that's aligned with your interests?
Find the right education path to take advantage of this fast-growing industry and join the front-lines on technology and security.