Cybersecurity Programs in California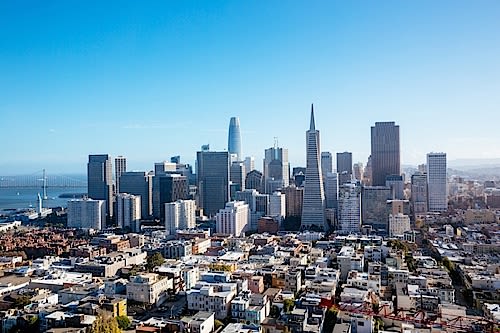 Are you ready to find a school that's aligned with your interests?
Find the right education path to take advantage of this fast-growing industry and join the front-lines on technology and security.
Two words: Silicon Valley. The hub of technological innovation is the perfect launching pad for a cybersecurity degree, with internships and job openings at the world's most recognized companies around the corner. If you've already made that turn, navigate to our list of all the cybersecurity programs in California. Otherwise, take the scenic route and read our explainer on California cybersecurity degrees, jobs and scholarships.
Studying Cybersecurity in California
Though Silicon Valley, which houses San Jose and San Francisco, is the prime spot for jobs, some of the state's most highly regarded university programs are outside the Bay Area. University of Southern California is perhaps the most prominent: IT experts ranked it the seventh best school in the nation for cybersecurity. But the Naval Postgraduate School, University of California, Davis, and Stanford University are all also well-respected. (Okay, so one of them is in the Bay Area.)
Here are a few notable cybersecurity initiatives at California universities:
Three hundred miles south of Google and Facebook headquarters, University of Southern California is up to its elbows in real-world security. It houses the government-funded Cyber Defense Technology Experimental Research Laboratory (DETERLab), a virtual sandbox for governments, businesses and researchers to test out hacks — and solutions to them. The university is also part of a yearlong initiative, the Integrity and Reliability of Integrated Circuits program, funded by the Defense Advanced Research Projects Agency (DARPA). It aims to help designers build circuits that can rebuff hardware hacks.
Back up the coast, the Naval Postgraduate School in Monterey runs the Center for Cybersecurity and Cyber Operations (NPS C3O). You may take classes from Dorothy Denning, a leading cryptographer and a member of the first class inducted into the National Cybersecurity Hall of Fame.
University of California, Davis is one of three California schools (along with the Naval Postgraduate School and UC Irvine) designated by the National Security Agency as a Center of Academic Excellence in Information Assurance Research (CAE/R). No wonder: Professor Matt Bishop literally wrote the book on computer security, with his textbooks commonplace in introductory courses nationwide.
In 2014, the Hewlett Foundation furnished Stanford University with a $15 million research grant to establish the Stanford Cyber Initiative, a cross-disciplinary body that explores the intersection between technological advances and societal change. Since then, it has received further funding for research into consumer privacy, cyber data breach costs, and government policies toward encryption, just to name a few examples.
Top Online Programs
Explore programs of your interests with the high-quality standards and flexibility you need to take your career to the next level.
Online Cybersecurity Programs in California
Many schools dabble in distance learning, but it's the extent to which they do that's important. Cal State Fullerton has two online programs — Computer Forensics I and Cybersecurity Analysis — but they're both certificates. Other schools, such as USC, reserve distance ed for graduate students. There are no schools in the Golden State with online cybersecurity programs at every degree rank. Instead, most of the big online players concentrate their offerings around one academic level.
Online Associate Degrees in Cybersecurity
---
Although there are plenty of certificate programs out there, an associate degree is the first academic credential most budding cybersecurity professionals target. After taking both general education classes and introductory courses covering basic security concepts, operating systems administration and networking, students can either apply their associate degree toward a bachelor's or enter the workforce. Most California schools, including Cuyamaca College and Los Medanos College, eschew fully online associate programs in favor of handpicked online courses. This allows traditional students to get a taste of distance learning on the way to their associate degree.
At Sacramento City College, for instance, students can take both Introduction to Information Systems Security and Disaster Recovery online. Three additional courses are on tap in a hybrid format in which students meet in person with instructors but attend classes and do homework remotely. The program is ideal for students with or without previous exposure to cybersecurity principles who want to become network administrators. It prepares them for professional certifications such as the Computer Technology Industry Association (CompTIA) Security+ exam and certain Certified Information Systems Security Professional (CISSP) exams.
Online Bachelor's Degrees in Cybersecurity
---

More advanced cybersecurity jobs, such as those with federal agencies, require employees to hold a Bachelor of Science in Cybersecurity (or at least a degree with a security concentration). There still aren't that many online degrees at that level in California, however. Mt. Sierra College is one of the few, and it's a great pick if you're uncertain whether you'll like the distance learning format. That's because it uses something it calls FlexLearn, which allows students to take courses online or on campus as the mood strikes. FlexLearn is optional, so if you're sure distance education is for you, you can work exclusively online toward a BS in Information Technology with a concentration in Information Security.

Online Master's Degrees in Cybersecurity
---
Several master's degrees in cybersecurity are available online because it's at that point that students can really branch out and pursue a narrower focus, as opposed to with a broader computer science or IT degree. There's enough variety in delivery formats among California-based online master's programs to find one that fits around your work or personal schedule.
If you have enough time to occasionally step on campus, for instance, you might consider USC, which has the top online graduate information technology programs in the country, according to U.S. News & World Report. Through DEN@Viterbi, enrollees in the MS in Computer Science (Computer Security concentration) or MS in Cybersecurity Engineering attend live streamed lectures with their on-campus counterparts and call in to ask questions. Or they can access lectures at their leisure. Students based in southern California must come to campus for exams, while all others take proctored tests.
If you're not in the area and want more flexibility, you have options as well. For example, unlike USC, the University of San Diego online learning environment is not integrated with on-campus programs. This means online students have their own teachers and lectures and don't interact with campus-based students. Lectures are asynchronously delivered, so students have flexibility within each seven-week term. Students interact via chats, email and discussion forums. National University employs a similar online-only format, but it adds in specializations, with students either learning how to be ethical hackers or exploring government security policies in depth.
Online Certificate Programs in Cybersecurity
---
Certificates come in several shapes — undergraduate or graduate — but one standard size: one year or less. Undergrads can pursue an online certificate if they're curious about the field but don't want to commit to a two-year associate or four-year bachelor's. Graduate students can grab a certificate to build upon their existing computer science knowledge so they can transition into a new or expanded professional role.
Offering certificate programs is also a way for universities to dabble in the emerging field of cybersecurity without rolling out a higher-level degree program. Some California schools have built quite a catalog of certificate programs, including California State University-Fullerton, which maintains two distinct online programs through its University Extended Education portal. Both are intended for law enforcement professionals who have to handle evidence from cyber crimes or respond to online attacks.
Elsewhere, California State University-San Bernardino prides itself on its cybersecurity center, which does some interesting things, like combine an MBA with a cybersecurity concentration. But its online certificate program is narrower in focus, aimed at giving future network administrators the basic tools to do their job.
Stanford has two options for distance learners—the four-course cybersecurity graduate certificate or the longer, six-course advanced computer security certificate. The first option deals with fundamentals (e.g. operating systems, computer and network security, introduction to cryptography, etc.) and is open to anyone with a bachelor's degree. The second option is much more sophisticated, with a lot of heavy technical work. This is for folks with a BS in computer science and a background in security.
If you're a military officer or civilian government official, the Monterey-based Naval Postgraduate School's graduate certificate courses should prepare you for high-stakes hacks against the U.S. government. The cybersecurity defense graduate certificate, for instance, first shows practicing cybersecurity specialists how to sniff out potential attacks by analyzing network traffic and then how to respond quickly to hacks.
Cybersecurity Scholarships in California
As you ascend the ranks, sources of funding for degrees shift. At the master's and PhD levels, you can target your funding search at private organizations interested in your research. Possibilities for fellowships, teaching assistant positions and graduate research posts also pop up. But one thing that stays consistent at all academic levels is the prospect of institutional scholarships. Here's a list of what's reserved for cybersecurity students at California colleges:
California State Polytechnic University-Pomona
California State University Sacramento
California State University-San Bernardino
Naval Postgraduate School
Sacramento City College
University of Southern California
Cybersecurity Events in California
Cybersecurity Meetups and Communities in California
From the Bay Area to the Mexican border, California is loaded with cybersecurity communities. Hackers are everywhere, but the nice ones congregate at Meetups. You can find some at Hacker Lab, a physical and virtual space in Sacramento; Los Angeles Hack Night, a gathering of hackers working on individual projects in each other's company; and OpenLate, which features talks and hack nights at OpenDNS headquarters in San Francisco. There are plenty of cybersecurity meetups where hacking is less emphasized: The Open Web Application Security Project (OWASP) is a nonprofit with active groups in San Diego, the Bay Area and Los Angeles. Here are a few large groups to consider joining:
Cybersecurity Conferences and Workshops in California
Because California is the epicenter of the tech revolution, several big cybersecurity conferences come through the Golden State every few years, many of them hosted by professional organizations. (Think: Information Systems Security Association.) Others go on the road to run trainings throughout the year: The SANS Institute runs multi-day workshops on cybersecurity in major California cities. But a few conferences have established roots in the Golden State and are held at the same location each year:
Cybersecurity Jobs in California
There were more than 28,000 unique job postings for cybersecurity professionals in California in 2014, the most of any state. But let's put things in perspective: California is also the most populous state, so the proportion of cybersecurity jobs compared to the overall economy is actually only a bit higher than the national average.
But the state's government isn't resting on its laurels. In 2013, it created the Cybersecurity Task Force, a collaboration between tech companies, policymakers, educators and researchers. The goal: making the state a leader in cyber affairs and expanding its cybersecurity workforce.
It's well-placed to do so. The task force has already partnered with the state's Innovation Hub (iHub) Network to encourage cybersecurity innovation while creating jobs in the field for entrepreneurs. And it's home to USC's Center for Computer Systems Security (CCSS). Up I-5, UC Berkeley, Stanford, and San José State University operate the Team for Research in Ubiquitous Secure Technology (TRUST), which develops business-centric solutions to cybersecurity problems.
Plenty of businesses rely on research produced by those hubs. Over 10 percent of Fortune 500 companies called California home in 2015. While these include tech titans and networking biggies clustered in the Bay Area, jobs for cybersecurity pros can be found as far south as San Diego. And don't overlook other CA-based corporations with obvious needs for cybersecurity staff. Think banks and lenders with a lot of consumer financial data. The major players include:
Cybersecurity Salaries in California
Although living in California is reward enough, you might also earn a good salary in the state. Four of the 15 best-paying cities for information security specialists are in California and, in case you're wondering, that's after adjusting for cost of living. The "three Sans" — Francisco (average adjusted salary of $119,346), Jose ($99,075) and Diego ($98,303) — along with Los Angeles ($86,072) are all worthy destinations.
Return on investment (ROI) is another helpful metric to forecast potential earnings. Of the top 30 entries on Payscale's College ROI Report exploring 20-year net ROI for computer science-related majors, 14 are California schools. These include three schools with cybersecurity programs: Stanford (#1), UC Davis (#23 with in-state tuition) and UC Irvine (#27 with in-state tuition).s
All Cybersecurity Programs in California
Below are all the matching programs we found in our directory, from 27 California schools.
California Institute of Arts & Technology
San Diego, California
Associate of Applied Science in Computer Information Systems – Networking Concentration
California State Polytechnic University-Pomona
Pomona, California
Bachelor of Science in Computer Science – Cybersecurity Career Focus
Computer Information Systems Undergraduate Program: Information Assurance Track
Master of Science in Computer Science – Cybersecurity Career Focus
NSA
CAE
California State University-Fullerton
Fullerton, California
Certificate in Computer Forensics I
Certificate in Crime and Intelligence Analysis
California State University-Long Beach
Long Beach, California
Online Certificate in Cybersecurity
California State University-Sacramento
Sacramento, California
Certificate in Information Assurance and Security
NSA
CAE
California State University-San Bernardino
San Bernardino, California
BA Criminal Justice – Crime Analysis, Technical Proficiency Cybersecurity
BS Information Systems and Technology – Cybersecurity Intelligence
Certificate in Cybersecurity
Master of Arts in National Security Studies – Cybersecurity concentration
Master of Public Administration – Cybersecurity Concentration
Master of Business Administration, Concentration: Cybersecurity
Systems Security Certified Practitioner (SSCP) Certificate
NSA
CAE
City College of San Francisco
San Francisco, California
Advanced Certificate in Cybersecurity
Certificate in Cybersecurity
Certificate in Security for Web App Development
Network Security Certificate
Coastline Community College
Fountain Valley, California
Associate of Science in Cybersecurity
Certificate of Achievement in Cybersecurity
NSA
CAE
Cuyamaca College
El Cajon, California
Associate in Science – Networking, Security and System Administration
Cypress College
Cypress, California
Associate of Science in Cyber Defense
Cyber Defense Certificate
NSA
CAE
Long Beach City College
Long Beach, California
Certificate in Cybersecurity
NSA
CAE
Los Medanos College
Pittsburg, California
Networking and Security (Advanced) Certificate
Networking and Security (Basic) Certificate
Networking and Security AAS
MiraCosta College
Oceanside, California
Associate of Science in Cybersecurity
Monterey Peninsula College
Monterey, California
Cisco Networking and Security Professional certificate program
Mt Sierra College
Monrovia, California
Bachelor Degree Program in Information Technology with a Concentration in Information Security
National University
La Jolla, California
Master of Science in Cybersecurity and Information Assurance
NSA
CAE
Naval Postgraduate School
Monterey, California
Certificate in Applied Cyber Operations
Certificate in Cyber Operations Infrastructure
Cybersecurity Adversarial Techniques graduate certificate
Cybersecurity Defense graduate certificate
Cybersecurity Fundamentals graduate certificate
Information Systems Security Engineering (ISSE) Certificate
MS in Computer Science – Computer Security
Ph.D. in Computer Science (may elect Computer Systems and Security specialization)
NSA
CAE
Palomar College
San Marcos, California
Associate of Science in Cybersecurity
Sacramento City College
Sacramento, California
Associate in Science in Information Systems Security
Info Sys Security Certificate of Achievement Program
San Jose State University
San Jose, California
Advanced Certificate in Cybersecurity: Core Technologies
Certificate in Cybersecurity Engineering
Certificate in Fundamentals of Cybersecurity
Master of Science in Software Engineering – Cybersecurity Concentration
NSA
CAE
Stanford University
Stanford, California
Advanced Computer Security Certificate
Graduate Certificate in Cybersecurity
University of California-Davis
Davis, California
MS in Computer Science – Security Focus
PhD in Computer Science – Information Assurance Focus
NSA
CAE
University of California-Irvine
Irvine, California
Information Systems Security Certificate Program
NSA
CAE
University of San Diego
San Diego, California
Master of Science in Cybersecurity Engineering
Master of Science in Cybersecurity Operations and Leadership
University of Southern California
Los Angeles, California
Master of Science in Cybersecurity Engineering
NSA
CAE
University of the Pacific
Stockton, California
Master of Science in Cybersecurity
Considering an online cybersecurity degree? Read on to learn about online bachelor's programs in cybersecurity and how to choose from top cybersecurity programs.
An online master's in cybersecurity can boost your career options and earning potential. Check out our program rankings to kick off your search.
The best cybersecurity schools prepare students for exciting and lucrative IT careers. Explore our ranking of the best cybersecurity bachelor's degree programs.
Are you ready to find a school that's aligned with your interests?
Find the right education path to take advantage of this fast-growing industry and join the front-lines on technology and security.