Cybersecurity Programs in New Jersey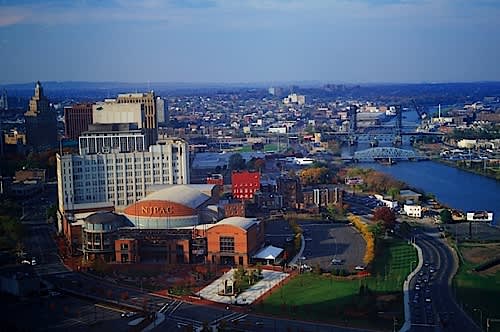 Are you ready to find a school that's aligned with your interests?
Find the right education path to take advantage of this fast-growing industry and join the front-lines on technology and security.
New Jersey is a small but active player in cyber security education. And with New York City within view, its graduates have instant job options. Not that they have to leave: There are plenty of opportunities for professional development and high-level employment within New Jersey's borders. Keep reading to hear more about it, or skip to our list of the state's degree and certificate programs.
Studying Cybersecurity in New Jersey
Several private and public colleges in New Jersey are committed to pursuing funding for cyber security research and developing new academic programs for their students. Here are some of the latest happenings:
Seven New Jersey institutions are rated as Centers of Academic Excellence in Cyber Defense Education and/or Research, but only one two-year school holds that distinction: County College of Morris. Students there can earn an Information Security Certificate.
Rutgers University offers a Professional Science Masters, which is a Master of Business and Science (MBS) degree. The MBS has three tracks: Computer & Information Sciences, Engineering Management, and Life Sciences. Computer & Information Sciences has several concentrations; the newest is Cyber Security.
2016 was a very good year for Stevens Institute of Technology. It won $1.5 million from the Department of Defense for a project aimed to protect supply chains from cyber attacks. Another half a million came from the Office of Naval Research to find ways to protect government networks against hacks.
The Cybersecurity Research Center at New Jersey Institute of Technology stages regular colloquia with outside speakers. At the research level, it's involved in three Defense Advanced Research Projects Agency (DARPA) initiatives, including "SafeWare" projects to render reverse engineering of software impossible.
Faculty from Fairleigh Dickinson University's Center for Cybersecurity and Information Assurance teach courses for a wide range of undergraduate and graduate degree concentrations — 14, to be exact, ranging from a BS in Criminal Justice to an MBA. The newest program is a fall 2017 arrival: the MS in Cybersecurity and Information Assurance.
Online Cybersecurity Programs in New Jersey
Associate degrees, bachelor's degrees and undergraduate certificates in cyber security aren't available via distance learning. Therefore, you may have to pursue a computer science or computer engineering discipline instead and wait until grad school to focus on security. That's not a problem: New Jersey Institute of Technology and Stevens Institute of Technology both have online master's degrees and certificates in the sector.
Online Master's Degrees in Cybersecurity
New Jersey Institute of Technology's MS in IT Administration and Security takes graduates with information technology degrees and transforms them into capable managers in charge of maintaining company databases, networks and/or computer systems.
Stevens Institute of Technology, on the other hand, gives security-minded students two options: an MS in Computer Science with a focus on Secure Systems and an MS in Systems Security Engineering. The latter, which is not offered every year, takes a multidisciplinary approach to the subject. Come prepared to take on computer science, electrical engineering, math, economics and policy-based coursework on your way to a job as, perhaps, a cyber security engineer or information security risk analyst. The MS in Computer Science, meanwhile, colors within the lines, but you'll have a lot of leeway when selecting courses. You can get in-depth on everything from programming to cloud computing to networking.
Top Online Programs
Explore programs of your interests with the high-quality standards and flexibility you need to take your career to the next level.
Online Certificate Programs in Cybersecurity
New Jersey Institute of Technology and Stevens Institute of Technology also place security-focused certificates online for those who don't want to spend a full two years getting a master's degree. If you already hold a computer science or IT baccalaureate, NJIT's Graduate Certificate in Information Security can be completed in just one semester. You can choose from a handful of diverse courses, covering everything from cryptography to transaction mining. No matter your selection, all courses can be applied toward the online MS in IT Administration and Security or one of NJIT's on-ground master's programs.
Over at rival Stevens Institute of Technology, the Secure Network Systems Design Graduate Certificate is much narrower in focus: If you want to design or maintain computer networks, it's for you.
One other New Jersey college has an online program worth mentioning. Private institution Fairleigh Dickinson University runs a Graduate Certificate in Computer Security & Forensic Administration. In this six-course program designed for law enforcement, students receive hands-on instruction in everything from malware to computer seizure.
Cybersecurity Scholarships in New Jersey
Because New Jersey hosts a limited number of cyber security programs, scholarships earmarked for such students are also limited. But there are several fantastic financial awards at three academic leaders:
New Jersey Institute of Technology
CyberCorps Scholarship for Service: Getting your tuition completely covered is just the tip of the iceberg. This scholarship — open to enrollees in the MS in Cybersecurity and Privacy, MS in IT Administration and Security, and PhD in Computer Science programs — also bestows recipients with a $22,500 to $34,000 annual living stipend, $3,000 for health insurance, $4,000 for professional development, and $2,000 for textbooks. If successful, you'll be required to perform a summer internship and work after graduation with a federal agency.
Princeton University
Stevens Institute of Technology
Stevens' Scholarship for Service: Pursue a cyber security bachelor's or master's degree and you're eligible for up to three years of free tuition, textbooks and travel, plus $22,500 to $34,000 to cover living expenses. After you've earned your degree, you'll be required to work in cyber security for a government agency for up to three years.
Cybersecurity Events in New Jersey
Cybersecurity Meetups & Communities in New Jersey
Whether you're new to the field or you practically invented it, you'll have to frequently update your skills to stay ahead of security threats. One of the best ways to increase your exposure to new approaches is by joining a professional association.
Informal groups are also great. However, many New Jersey residents find that the most applicable gatherings for them are across the border, such as the 3,000+ strong NYC/NJ Cyber Security Meetup. Philadelphia and Wilmington are also good places to look. (If you live or work near the state border, see our New York or Pennsylvania guides for groups near you.) Below, however, are four of the most prominent cyber security communities headquartered within the Garden State:
Cybersecurity Conferences & Workshops in New Jersey
Alas, many of the biggest cyber security conferences skip New Jersey in favor of neighboring NYC. (See our guide to cyber security programs in New York for examples.) However, the state's university campuses remain active with smaller yet vibrant affairs. One place to look is Fairleigh Dickinson University's Center for Cybersecurity and Information Assurance, which hosts an annual symposium.
Further south, cities such as Trenton and Princeton host some exciting annual options, in addition to one-off events. Speaking of Princeton, be sure to scour the university's Center for Information Technology Policy (CITP) for upcoming conferences and lectures touching on security issues.
Here are three events that are on the state calendar every year:
New Jersey Digital Government Summit: Cyber security is a major talking point at this annual free Trenton event for the state's public sector employees.
New Jersey Tech Security Conference: Stroll through the product exhibits and wander in and out of speaker presentations for a day in Princeton. If you need them, continuing professional education credit sessions are available for $50 each.
NJEDge.net Annual Conference and Security Summit: NJEDge.net is a statewide consortium of research institutions. The Security Summit, held in conjunction with NJEDge's annual conference, puts government officials and academics on the stage to discuss defending the state's institutions from cyber attacks.
Cybersecurity Jobs in New Jersey
New Jersey boasted the ninth-most cyber security job postings of any state in 2014, according to a report from Burning Glass Technologies. Most of that is focused in the New York City Metropolitan Division, which extends to Jersey City.
But where exactly might a cyber security grad get work within the Garden State? One possibility is Verizon Communications, which keeps 15,000 people in the state on the payroll and is listed on the Cybersecurity 500 as one of the best employers in the game. AT&T Network Security also graces that list and is based in Bedminster.
Honeywell International, one of the world's biggest conglomerates, is another Jersey-based company connected to security, working on everything from aerospace innovation to industrial automation and control systems. For actuarially minded pros, Warren-based Chubb needs analysts for its cyber security insurance services. With 17 more Fortune 500 companies in the state, plenty of high-powered employers are looking for knowledgeable staff. If you know the industry you want to enter, Choose New Jersey can guide you to the largest employers.
Still, sometimes it's better to target smaller, innovative firms operating exclusively in the security sector, which New Jersey has plenty of: Rsam in Secaucus, Comodo in Clifton, Prevalent Networks in Warren, BlackStratus in Piscataway, and Enforcive in Hackensack, to name just five.
Cybersecurity Salaries in New Jersey
If you can land a job in New Jersey, you should be compensated well. According to the U.S. Bureau of Labor Statistics, New Jersey's information security analysts earn more than anyone but DC and New York state residents — a median wage of $110,000. Change your job title and you'll still make much more than your counterparts from Connecticut to California. According to data from Indeed.com, IT security specialists pull in $124,000 and network security engineers command $126,000. Before you buy that new car, however, remember that New Jersey's cost of living is about 20 percent higher than the nation's as a whole.
All Cybersecurity Programs in New Jersey
Below are all the matching programs we found in our directory, from 6 New Jersey schools.
Considering an online cybersecurity degree? Read on to learn about online bachelor's programs in cybersecurity and how to choose from top cybersecurity programs.
An online master's in cybersecurity can boost your career options and earning potential. Check out our program rankings to kick off your search.
The best cybersecurity schools prepare students for exciting and lucrative IT careers. Explore our ranking of the best cybersecurity bachelor's degree programs.
Are you ready to find a school that's aligned with your interests?
Find the right education path to take advantage of this fast-growing industry and join the front-lines on technology and security.